Files:
free "decorative items" 3d model
---
file types:
.3ds
.obj
.blend
.skp
.max
---
3d model info:
32542 Vertices
48683 Edges
22079 Polygons
---
textures included:
---
This model is licensed under the Creative Commons 3.0 Unported license: http://creativecommons.org/licenses/by/3.0/ Your are free: To share - to copy, distribute and trasmit the work To Remix - to adapt the work Under the following conditions: You are free to make personal or commercial works Attribution: The models can be used in renders or animations without attribution. If you want distribute the model files themselves you must attribute it to Scopia Visual Interfaces Systems, s.l. (http://www.scopia.es)

14.02.2010

3.94 MB

2,286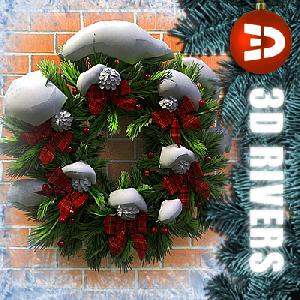 You love Christmas, but it is not coming soon since it's August? You may arrange one in your own 3d world! 3D Christmas wreath covered with snow is to help you in this mission. Hope you enjoy using our models. We are open for your questions and suggestions.
3D Rivers
{author_url_text}

11.08.2010

1.81 MB

1,834